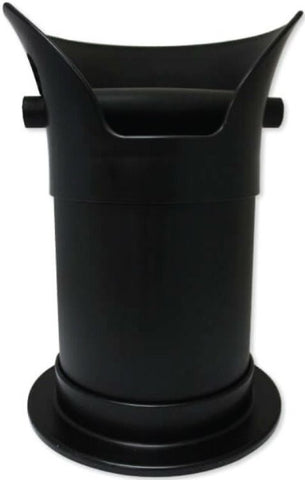 Rhinowares Thumpa Counter knock tub
Durability and stability were the main priorities in the design of the Rhinowares Thumpa Counter Knock Tube, well suited to domestic use. The Thumpa can literally take a thumping!
Waste bins need to be able to withstand being hit, bashed, and dropped without failing. Using high shock-resistant plastics, the Thumpa's "durability tests" had it come out the other side with unbelievably great results.
The flared collar allows for excess splatters to be easily captured. The slotted bar inserts allow for easy removal of the rod and rubber set for cleaning and maintenance. The top is removable for easy emptying OR for use in conjunction with a waste bag.
Height: 300 mm
Width of Collar: 225 mm
Width of Base: 220 mm
Length of Knock Bar: 200 mm
Length of Rubber Cover: 157 mm
Weight: 2 kg