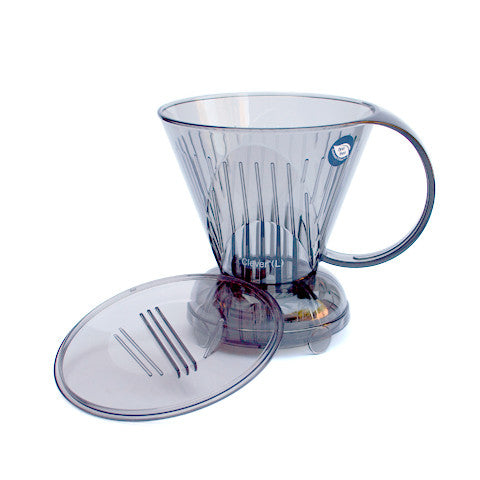 Clever Dripper
The Clever Coffee Dripper is so easy to brew coffee with. 
It works as a combination of Immersion and drip.
First part is immersion when it brews your filter ground coffee in the water. After 2 or 3 minutes you place it on a mug or server.
This action opens the valve at the bottom to allow the filtered coffee to fall through to your cup. Then the coffee drips for 1 to 2 minutes. Ready Freddy!
The new Clever Dripper is made from Eastman Tritan BPA-free Plastic. This plastic is the best food grade heat resistant plastic available.
Some design upgrades have also been added:
Handle: More ergonomic handle for balanced lifting and holding.
Lid Design: Fits better and has an improved handle.
Base Design: Allows the valve and base to be removed and cleaned.
The Clever Coffee Dripper has advanced the concept even further creating an easy way to brew without bitterness acidity or loose grounds. The difference is its new shut-off valve system. Instead of pushing the grounds to the bottom of the brew carafe the grounds settle naturally.
We do recommend to use our Filtropa white filters, size 4, with the Clever.