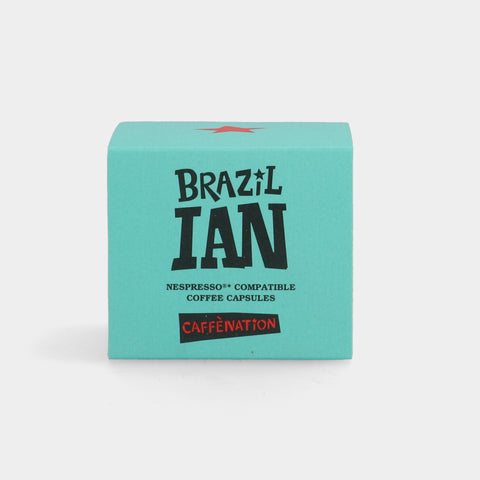 Coffee Capsules New Crop Brazil IAN (per box of 12 X 10)
We filled these capsules with the wonderful coffee of
CASCAVEL VERMELHA
TASTING NOTES:
Nice mouthfeel and body
Well balanced cup with fruity notes
Chocolate after taste
Region: Sul de Minas
Variety: Bourbon varieties
Processing: Natural/unwashed
Altitude: 1100 masl
Exporter: Cascavel
Importer: Sucafina Specialty
Rob says : I am in a constant search for luscious Brazilian natural processed coffees. So I kept changing the content of our Brazil IAN until we found a very limited offer of our CASCAVEL VERMELHA one year ago. 
Brazilian coffees are grown relatively far from the equator, which results in lower altitude plantations and thus less enhanced (fruity) coffee flavours.
In most of Brazil harvest happens only once or twice a year and so, many unripe cherries get picked. These so-called quakers give a very (pea)nutty taste and a lack of body. On top of all that, processing is often done sloppy causing earthy flavours to pop up.
This may all sound a bit judgmental towards Brazilian coffees (and maybe we are a bit) but by finding our CASCAVEL VERMELHA, we can say that this is a very stable, fully flavoured, good value for money coffee and surely a keeper. 
Full Bodied and fruity, with notes of chocolate; a samba party for your taste buds.

Brazil IAN is just the thing to start up your morning swing. 
Caffenation Nespresso Compatible Plant Based Compostable Coffee Capsules. 
Capsules packed with flavor and fully eco and environment friendly.
Check thegreenring.org for more info.
Shop Sales Price: €4,7/box
One wholesale box fit 12x10 capsules.